Spirit Devlin's Home Page
The Latest News My New Pages My Links and Webrings Page
---
Here I am with Gerry. I always like to look my best!
P.S. If the hand intrigues you click here to see more.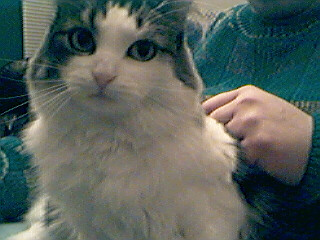 Welcome to my home page!!
Like life it's always changing, so be a frequent visitor. Our furniture is very comfortable so settle down and enjoy your visit.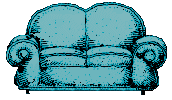 To begin, you need to know the story of how I first met Gerry. It all started one morning when I was hanging out in a local garbage can in Newark New Jersey, my home town. Gerry was throwing out his garbage. He opened up his garbage can and there I was, and..... Well, I think it's best if I ask him to tell the story, he's so good at things like that. I'll just leave space for him here......
Well I've been waiting quite a while for Gerry to tell you about our life together and how we met. You see he's so busy earning a living and keeping cat food on the table for me, that maybe I should save him the trouble by explaining things to you myself.
To begin with, Gerry says that the way we met is a purrfect example of something which he calls 'charma' or 'karma'. The way he has explained this human concept to me, is that there is a purpose to all that happens to us in life, and so when Gerry and I met it was no accident, he thinks that it was meant to be. Gerry is always talking like that, sometimes I think it would be simpler if he just mellowed out and purrred about things like we cats do, but he does have so many endearing little human ways that I can forgive his small imperfections. All cats know what he means though, in cat language we would call it our 'destiny'. You see it's true! We WERE meant to be together. Gerry says that I chose him, even if it seems that he was the one to find me. It's so true!
You see I was wandering around that morning looking for breakfast when I saw the blue light like I always do. Cats know that the blue light leads them to their destiny, so we always follow it. Anyway that morning I was following the blue light to my food and my destiny. But that particular morning the light was so especially BRIGHT, that of course I should have known that something momentous was about to happen. From the minute that I saw Gerry's blue eyes staring at me over the edge of the garbage can, I knew I had found my home. His eyes were so full of love and kindness. Of course, they were full of confusion, too. I don't think that humans know very much about following the blue light and so often they don't really know what to do next in life. Gerry simply couldn't decide. So he looked at me a long time and then he smiled and then I smiled, until finally he got the inner message (why can't humans just listen harder and hear clearly?). Then he picked me up in his strong hands and carried me home to my new life.
At first when I arrived, we weren't alone. There was another cat named Harry already living with Gerry. He was old, and wiser in the ways of the world and humans than I was, but shortly, after 1 or 2 difficult incidents where I ended up nearly being accidentally drowned in the bathtub, we became fast friends and he showed me very much about the ways of humans. He also taught me so much in the ways of cat wisdom. This was a part of my education where I did need assistance, since before this I had always been alone and not much in the company of other cats. Basic survival skills I knew, but cat wisdom and sacred knowledge I had never before had the time or opportunity to learn.
Anyway some time later Harry passed over and I was left in charge of the Devlin household. Sometimes this responsibility is pure pleasure, since I do love Gerry so much and there are always so many things going on here. Other times Gerry can be very exasperating, and the ways of humans are very strange indeed. For instance, Gerry spends much time lifting large, strangely shaped metal things. He calls it 'bodybuilding'. How ridiculous! It's too late for him to build a body, he already has one! Anyway all the time while he's doing this bodybuilding, he grunts and sweats and mutters some very unpleasant things, yet he seems to enjoy it sooo much, and after he's finished he sits down and relaxes with me, and positively purrs. Then he usually tells me something about mysterious things called 'endorphins'. They seem to make him happy, but I can't figure out exactly what they are. No other cat I've discussed it with has ever heard of these 'endorphin' things.
Gerry probably made it all up. He's always puttering around and muttering about some strange concept or another. Some of his favorites are soul, inner planes and mahanta. He also talks a lot about masters. He talks so much about masters that at first I thought he must be like a dog because they have masters. They are not as independent as we cats, but I've lived with Gerry a long time and still I've never seen any of Gerry's masters. If I ask him about them, he just smiles at me and says they are here, but I don't know how this could be because cats are so sensitive, I should have noticed any masters by now if they every visited us.
Anyway, my favorite concept that Gerry talks about is LOVE. He talks about it all the time, so much so that I would think that he is mushy except that he is so loving. Really he is, both to me and to others. Our household is filled with love and patience and kindness. Sometimes I actually forget that Gerry is a human. I think that he must really be a cat in human disguise. That's what I really wanted to tell you about my life with Gerry. I thought when I started to write this that I would describe our day-to-day life together, but the thing that I wanted to tell you the most is how happy Gerry and I are living together. Since I've told you the most important thing I think I should stop for now. Maybe later I'll add more details.
---
So much has been happening in our lives lately, it's time to tell you more.
A wonderful and unexpected surprise arrived for us here at Devlin87 a short time ago. They say that a picture is worth a 1000 words at least. Well just look at this picture.

That's right, this webpage has won it's very first award! It was such a shock to all of us here. We didn't even know we were nominated for anything. Gerry was away on a business trip when the award arrived, and was he amazed when he first saw it. He told me that this award means that my work on the webpage is being appreciated by its readers. And this should encourage me to do the best job possible to entertain and inform our readers, even when I'm feeling sad or tired. I promised that I would always do my best. Then Gerry held me in his lap for a good long time like he always does when he happy about something. He told me he was proud of how hard I was working and said how well he liked my page himself. Gerry's been so busy that he's never really had time to talk to me about our webpage before. I told him that he should do more work on his page, because lots of people would like to hear about the wonderful thoughts that he has to say. He's always telling me such beautiful and loving things, that I know other people would like to hear about them too. He said he would try harder to find time for writing his webpage. I'm sure glad we won the 'Footstep of Excellence Award', but it's made me wonder if anyone gives an award called the 'Pawprint of Excellence Award'. Now that would be something to strive for.
Other good news. I've just discovered that there is a group on the web dedicted to the pastime that we cats like best, meditation. Of course, I had to join this noble group immediatedly, check out the Society for Meditative Cats and visit some of the fine web pages of the other group members.
Change always brings new things and Gerry was right when he explained to me how moving will open up new opportunities for us both. He suggested, I try to get my mind off sad things by writing some new things for the web. What a wonderful inspiration his words were to me! I remember exactly what he said. "Sweet Baby (he always calls me that), why don't you write up some more of those cute little webpages, anything to keep you occupied and out from under foot". For some reason Gerry is always so concerned that I'll be trampled under his feet when he gets busy. That just shows how kind and thoughtful he is, but he doesn't have a thing to worry about, I always know how to keep myself out of harm's way.
Anyway once Gerry gave me that great inspiring idea, I realized that I didn't know what to write about, so I consulted with Jerry Bookworm, he gives such wise advice, and Rita , she's my computer and 'web' advisor. We got together and came up with several great new page ideas. First we decided that since Gerry's so occupied right now, we could start work on a webpage about dreams like he's been wanting to do. This will help out Gerry by taking the writing burden off of him. There will also be a page on meditation, and my very own computer diary, giving my personal insights on the internet expericence.
Another big event for us was our celebration of the 49th birthday of the 'founder of our feast', Gerry. We have decided to celebrate this birthday and to ignore the next one, the 50th, because we don't want to remind our beloved Gerry that he is getting soo very old. We all worked to prepare a really spectacular card for him. Check it out, but you have to promise not to mention this card to Gerry. We want him to find it all by himself. He'll be really surprised!
Rita prepared the card for us, but we all contributed our ideas, so the card had to be very big to fit them all in. It's been really hard for me to keep my secret when Gerry is around, I want to tell him about our gift so that I can see the look on his face when he finds his surprise. But I promised to wait and not tell. We all made a little bet about when Gerry will find his card. I said he would find it right away because he's soo very smart that he knows just about everything, but Rita said something about hell freezing over about the time he finds it. Jerry Bookworm thinks birthdays are silly and we shouldn't be wasting our time with 'excessive celebrating'. He wanted us to give Gerry his card, eat our ice cream and cake and get back to serious matters. He takes his mascoting duties very seriously, but I know that we all need to savor the joys in life. I'm finding the suspense delightful!
(Know what happened? Gerry found our card right away. I was right He's really so very clever!)
---
The latest news - Well we've moved to Atlanta, Georgia and settled in very nicely. We have so much more space to live in now than we used to have, and Gerry has even given me a special desk area of my own to use for my computer supplies and equipment. Things just seem to pile up and it was getting so cluttered in the computer area of our New Jersey apartment.

And we don't just have more space, Atlanta has soo much sunshine too, I've really come to love it here. But I do miss so many things and all of the people that used to visit us. We don't have as many firends here as we used to have. Gerry is so friendly, of course and popular, but he's been so busy with work and his business trips lately, that it's really been up to me to find us new friends. I don't know what I would do without the computer, I'm spending a lot of time on it lately, learning many new things, and making new friends

I've also made some new friends of a very unexpected sort, Gerry surprised me and brought home an aquarium, and about a zillion fish just for me. He said that I can't possible be lonely now. He's always so thoughtful.

I'd love to put the aquarium on the page for you to see it in all of it's beauty and complexity, but I know that all of that water would short out the computer. Ha Ha, I made a little joke. So I've done the next best thing, I've asked Rita to create a faithful representation of our new undersea world for your enjoyment. Here it is Enjoy.


That's all the news for now, but come back soon to check out my new webpages. .


If you send me an e-mail, c/o Gerry, of course, I'll try to respond to any questions or comments you might have.

Love and Hugs to you all from SPIRIT DEVLIN.

Before you leave, if you have time, check out my all time favorite link, the Scooby Web O'RAMA, It's dedicated to Scooby Doo. I know he's a dog, but you just have to love him - he's way cool!. You might also like to check out the ultimate cat site, it's dedicated to that ultimate cat, Garfield and called Garfield Online.

Also, while you're here, check out our web site's official mascot, Jerry Bookworm. Gerry had wanted our mascot to be something big and impressive like a German Shepherd with exceptionally large teeth. Well you can imagine how I felt about that, so I pointed out to Gerry that a large mascot would be impractical since it would take up too much bandwidth. Well he's a man and you know how impractical they can be.

Anyway, we needed a mascot to be a gracious host and to efficiently direct visitors through our web site. When I first saw Jerry I knew he was purrrfect! He's so charming and knowledgeable. I knew he was right for us. Jerry comes from a rich and distinguished worm family, and consequently received an excellent education. He's been so many places and done so many exciting things. He's always so interesting to be with. He also has an avid interest in music, especially piano music, his favorite being Liszt. We expect Jerry to add a bit of whimsy to our rather droll page. Jerry also has the bluest eyes, just like those of that other Gerry, who is the founder of our page. Anyway, I suggest you take a moment and visit with Jerry.
---
Here are links to my new pages!
(Please be patient with me they are still under construction)
Spirit's Web, my purrrsonal computer journal
Spirit's Meditation Page, where I discuss meditative techniques
Spirit's Dreams Page, ah sleep, perchance to dream
Spirit's Poetry Corner, my little literary niche in the Web
Spirit's Awards, awards given and received
Nine Lives, my history page
and for those of you journeying thru the net via a ring,
Links and Rings, my webrings page
---
---


Page created and maintained by Rita Wondrak. E-mail. Last Updated on 20 January 1999
Copyright 1998, 1999 by Rita Wondrak. All Rights Reserved.